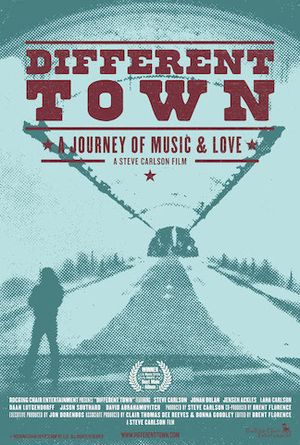 Different Town: The Movie

"Different Town" is a musically driven Rockumentary chronicling the experiences that were used to help create an award winning CD Release. Forgoing the traditional path of studio recording, singer/ songwriter Steve Carlson makes his latest album on the road. With the help of friends and collaborators, he provides the audience with 11 songs while traveling across 13 different cities throughout Europe and the US.

With an upcoming tour scheduled, Carlson makes a bold last-minute decision. He unpacks half the contents from his suitcase and fills the space with recording equipment. With his laptop and a few musical devices, Carlson begins his journey after writing the first song and spark that ignites the 'concept' of the record. The title track to the album, 'Different Town', is a song about a displaced man who is wondering from place to place seeking solace from danger and judgment.

As he continues onto 9 countries, his travels take him on a quest for inspiration as well as musicians, both of which come often times from local city streets. As with any serendipitous work of art, love finds it's way into the story. He meets the love of his life in Paris, France and now the plot takes a turn. He is forced to finish the album with the looming fear of losing the woman he searched his whole life to find. 

Different Town is a story of hope about determination, struggle and finding inspiration and love in the most unexpected places.